Back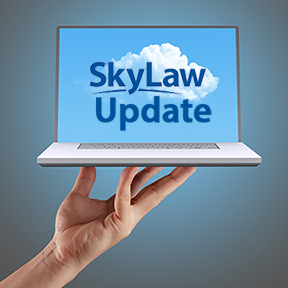 SkyLaw Update
SkyLaw Update
We are pleased to bring you our latest update for 2016. This year has been off to a very exciting and productive start! Please see below for a few key developments and stay tuned for more in the coming months.
NOMINATION ALERT:
Canadian Lawyer's List of Top 10 Corporate Law Boutiques
SkyLaw is pleased to be nominated as one of Canada's Top 10 Corporate Law Boutiques by the award-winning Canadian Lawyer magazine!
If you would like to weigh-in on the rankings or show your support
for SkyLaw, head on over to the brief online poll to select your top picks. It takes only a few moments to cast your vote:
Thank you for your time and we appreciate your support!
Please Note: Voting is open to both lawyers and non-lawyers. For those who have not been called to the bar, please enter the year that you started your career instead. You must select at least 5 firms in Section 3: Corporate Law Boutiques for your vote to count. Your responses are strictly confidential. Voting closes Mar. 1, 2016.
Recent Success Stories
We take great pride in our clients. We establish long-term relationships with our clients and work closely with them as they take on new challenges with acquisitions, divestitures and new investors, and as their businesses evolve to meet market demands.
The following is a sample of our recent transactions:
We closed our third Canadian acquisition for NYSE-listed United Rentals, Inc., the world's largest equipment rental company, in September 2015.
We closed the acquisition by plan of arrangement of Candax Energy Inc., a TSX-listed oil and gas company, for SkyLaw client Geofinance N.V. in November 2015.
We closed the spin-off of the healthcare business of TSX-listed NexJ Systems Inc. in January 2016.
We are advising the target board of directors of a TSX-V listed company on a negotiated acquisition by a larger public company.
Team Retreat
Last week we had our annual two-day work retreat. The primary objectives of the retreat were to review our internal processes, to discuss our strategic goals, and to develop new and better ways to serve our clients.
Since our 2015 retreat, the SkyLaw team has grown! We've been joined by 3 new team members: Andrew Cooley, Olivia Adamski and Devi Panday. If you have yet to meet them, please see below for a brief bio of each person and feel free to reach out to them at any time to introduce yourself.
Andrew Cooley
Associate
Andrew is a corporate and securities lawyer. Prior to joining SkyLaw, Andrew was an associate at Davies Ward Phillips & Vineberg LLP in Toronto where he had a broad corporate practice. Read More
Contact: andrew.cooley@skylawpc.ca
Olivia Adamski
Articling Student
Olivia obtained a Master of Laws from the University of British Columbia. Prior to that, she completed placements at several international law firms gaining exposure to corporate law and foreign direct investment. Read More
Contact: olivia.adamski@skylawpc.ca
Devi Panday
Law Clerk
Devi is a Corporate Law Clerk with over 11 years of experience working in big firm environments. Prior to joining SkyLaw she worked at Blake, Cassels & Graydon LLP, Miller Thomson LLP, as well as in-house at a public corporation. Read More
Contact: devi.panday@skylawpc.ca
Stay informed & view more updates
by visiting SkyLaw's Blog today!



SkyLaw Professional Corporation
3 Bridgman Ave., Suite 204
Toronto, ON M5R 3V4
kevin.west@skylawpc.ca

*|LIST:DESCRIPTION|*
Unsubscribe | Update Subscription Preferences
*|REWARDS|*
This blog post is not legal or financial advice. It is a blog which is made available by SkyLaw for informational purposes and should not be used as a substitute for professional advice from a lawyer.
This blog is subject to copyright and may not be reproduced without our permission. If you have any questions or would like further information, please contact us. We would be delighted to speak with you.
© SkyLaw . All rights reserved. SkyLaw is a registered trademark of SkyLaw Professional Corporation.