Back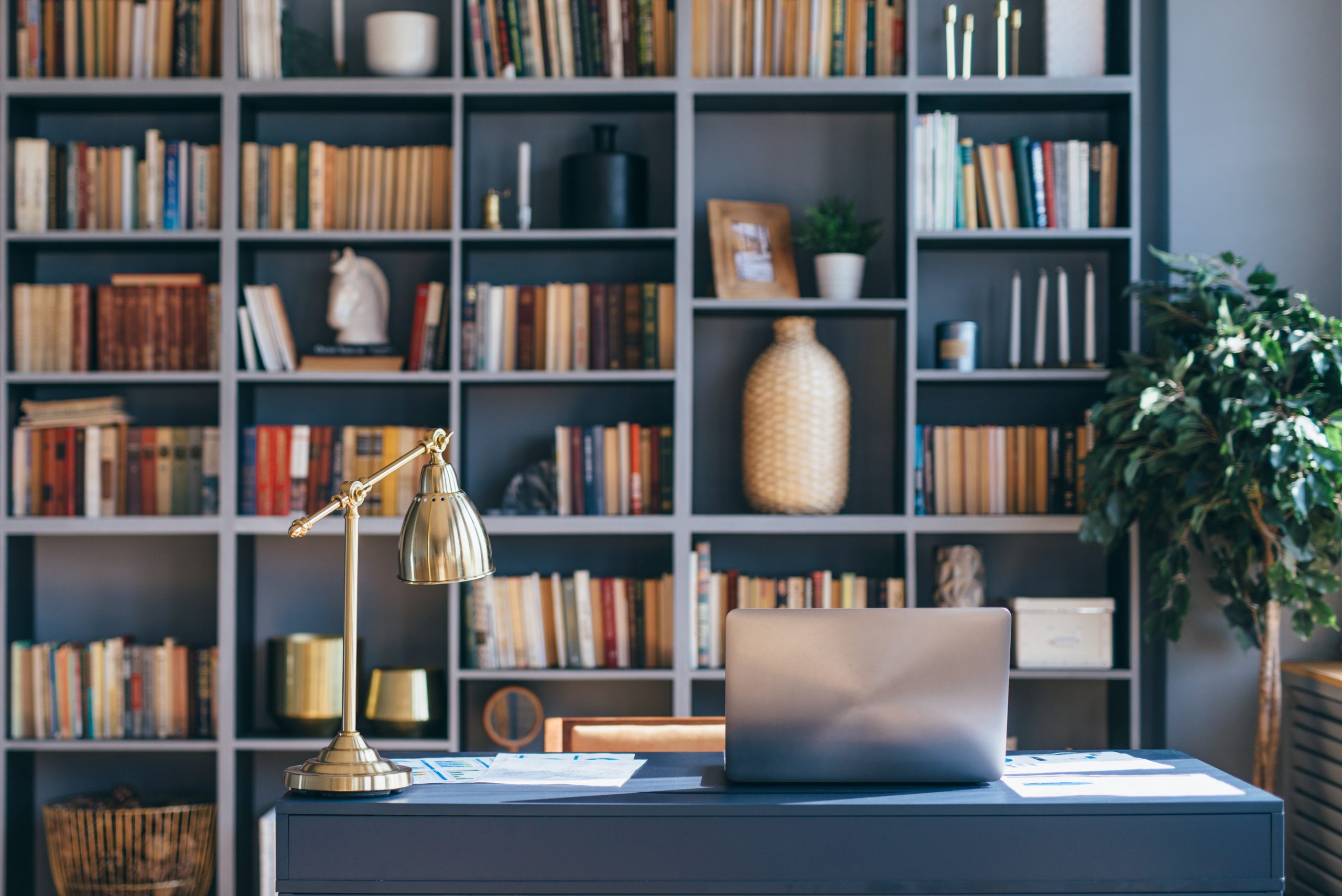 Ontario Declares Third State of Emergency and Reinstates Stay-At-Home Order
---
The COVID-19 variants of concern are more contagious and deadly, but the response varies greatly by jurisdiction
---
On Monday, the Texas Rangers opened the 2021 baseball season at home with over 38,000 fans in attendance. It is believed to be the first sporting event in North America without capacity restrictions since the start of the COVID-19 pandemic in March 2020. The Toronto Blue Jays disappointed the Texas fans by beating the Rangers convincingly 6-2.
Meanwhile, most jurisdictions in Canada in recent days have significantly tightened their health and safety restrictions. Last week, Ontario reversed its re-opening plan and imposed a four-week, province-wide  "emergency brake". Facing criticism that the emergency brake did not go far enough, the Ontario government declared another state of emergency yesterday and reinstated its stay-at-home order province-wide for at least another four weeks.
The Stay-At-Home Order
Ontario implemented its first stay-at-home order on January 14, 2021. The new stay-at-home order went into effect at 12:01 a.m. today, and is similar to January's order. Every individual must remain in their place of residence at all times unless leaving is necessary for one of the specific purposes set out in the order, such as for food, exercise, and obtaining certain kinds of goods and services.  The province's website summarizes some key details, including what is open and closed.
One difference is that the new order expressly permits people to leave their residences for "vaccinations", in addition to obtaining "health care services and medications" as contemplated by the prior order.  Obtaining goods or services for "landscaping" and "gardening" is also now contemplated in the current order as a valid reason for leaving a residence.
While it is sometimes hard to distinguish between a "lockdown", "shutdown", "grey zone", "emergency brake" and "stay-at-home order", the obligations on employers can be significantly different. Under the current stay-at-home order, as with the January order, businesses that are permitted to be open must ensure that all employees work remotely, unless the nature of their work requires them to be on-site at the workplace.
Additional Considerations for Employers – Vaccine Policy
Canada lags behind many industrialized nations in its vaccination efforts.  According to The Economist, Canada has given one dose to 20.2% of its adult population and only 2.5% of adults are fully vaccinated having received both doses (for the United States, the figures are 43.5% and 24.2%, respectively).
Last week, more than 181 Member States of the United Nations unveiled a declaration expressing deep concern over the uneven distribution of vaccines and addressing the scourge of vaccine misinformation. The declaration states: "We strongly believe that 'no one can be safe, until everyone is safe'", and that access to COVID-19 vaccines must be ensured to have a speedy recovery and to put an end to the pandemic.
Employers should now be considering implementing a COVID-19 vaccination policy with the assistance of an employment lawyer. In general, we understand from employment lawyers that an employer can require vaccination as a condition of employment and terminate an employee who does not comply, subject to a number of considerations such as the human rights code. Recently, SkyLaw alumnus Puneet Tiwari spoke on Global News about handling vaccine hesitancy in the workplace and the importance of a clear policy.
Federal Restrictions
The Canadian government's border restrictions and mandatory quarantine requirements continue to impact industries and other facets of Canadian society.  For example, they make it impossible for sports teams to regularly cross the border. The Blue Jays have not played a game in Toronto since 2019 and have instead made Dunedin, Florida their home.  The Toronto Raptors are temporarily based in Tampa, Florida.
The National Hockey League has created an all-Canadian division so Canadian teams only play each other in Canada (although the federal government has reportedly approved a reduced quarantine period for players acquired by Canadian NHL teams from U.S. clubs on "national interest grounds" ahead of the league's April 12 trade deadline).
Despite these measures, outbreaks are still a risk for teams: very recently 21 players on the Vancouver Canucks tested positive and all the players and staff are now in quarantine.
Response of Other Canadian Provinces
Many other provinces are returning to more restrictive protocols. Quebec continues to have a curfew and prohibition on indoor gatherings in private homes in many of its "Maximum Alert (red) zones" and bans travel between regions. After a recent spike in cases, Alberta moved back to its "Step 1" restrictions on April 6. British Columbia implemented a three-week "circuit breaker" lockdown on March 29 and closed indoor dining, prohibited in-person religious services and halted group in-person fitness activities.
The statistics about this third wave are alarming. In Ontario, daily new cases of COVID-19 have been on a dramatic rise despite many areas, including Toronto, already having been included in a "shutdown zone" since April 3: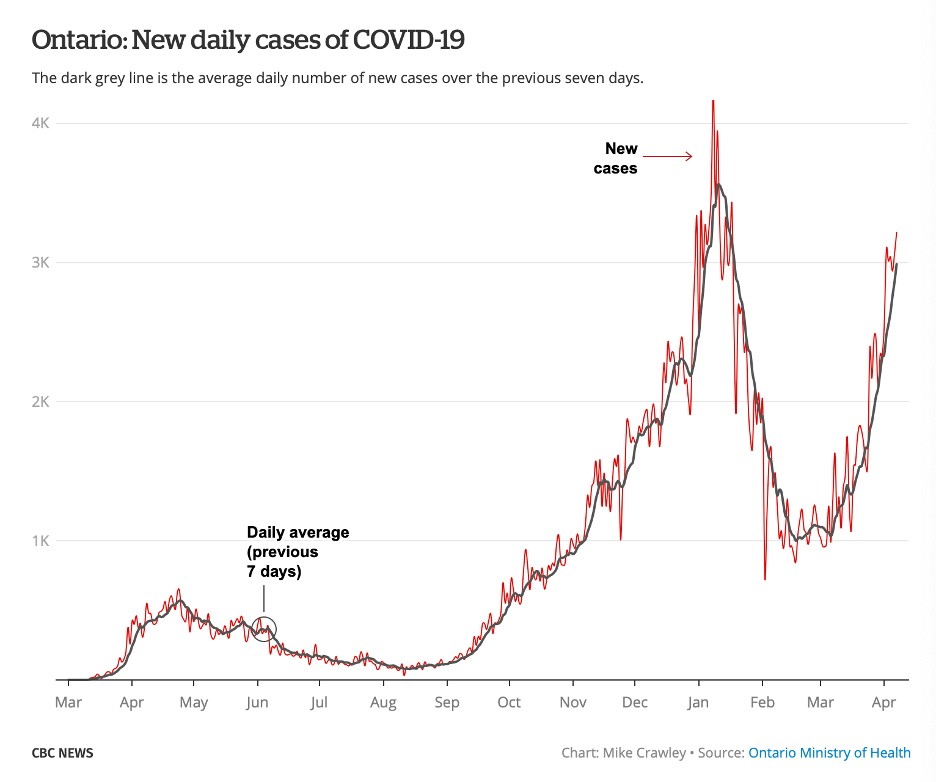 The maritime provinces, perhaps because of strict travel restrictions that in some cases require self-isolation for those arriving from outside Atlantic Canada, appear to be keeping the spread under control. Only two new cases were reported in Nova Scotia yesterday and three reported in New Brunswick on Tuesday.
With the inviting spring weather making it more enjoyable to be outdoors, we are grateful for the reasons that remain available to leave the house.  We hope that with these increased restrictions and an effective vaccine rollout we can soon return to normal.
This blog post is not legal or financial advice. It is a blog which is made available by SkyLaw for informational purposes and should not be used as a substitute for professional advice from a lawyer.
This blog is subject to copyright and may not be reproduced without our permission. If you have any questions or would like further information, please contact us. We would be delighted to speak with you.
© SkyLaw . All rights reserved. SkyLaw is a registered trademark of SkyLaw Professional Corporation.