Back

New Year's Update
---
SkyLaw's Recent Deals
Herc Rentals "rapidly" closes another Canadian acquisition
SkyLaw client Herc Holdings Inc. (NYSE:HRI) completed its acquisition of Toronto-based Rapid Equipment Rental Limited in November 2021. The acquisition follows Herc's purchase of Toronto entertainment equipment rental firm Dwight Crane in September (which we wrote about in our Fall Update).
Herc Rentals is a premier full-service equipment rental firm and one of the leading equipment rental suppliers in North America. Rapid Equipment is a full-service general equipment rental company with seven locations throughout the Greater Toronto Area, one of the largest equipment rental markets in North America.
SkyLaw is proud and delighted to continue working with the terrific team at Herc. We enjoy seeing more and more Herc rental equipment on the streets of Toronto!
Digital Core REIT launches on the Singapore Stock Exchange
SkyLaw client Digital Realty Trust, Inc. (NYSE:DLR), the largest global provider of cloud- and carrier-neutral data center, colocation and interconnection solutions, completed the successful listing of Digital Core REIT as a standalone, publicly-traded vehicle listed on the Singapore Exchange.
The SkyLaw team has provided corporate services to Digital Realty in Canada since 2016 and we were pleased to be a part of the IPO team for the launch of Digital Core REIT. SkyLaw is identified as one of the Canadian legal advisers to the Manager in the IPO prospectus. We wish Digital Realty and the new Digital Core REIT much success!
---
COVID-19 Update: Brace for Impact
At the time of our Fall Update, many governments had been easing COVID-19 restrictions, with the Ontario government previously planning to lift most restrictions by March 28, 2022. However, the spread of the Omicron variant at an incredible rate has caused governments around the world to dramatically reverse course in recent weeks and reimpose severe restrictions.
Ontario shuts down again
On January 3, 2022, Premier Doug Ford of Ontario warned that "a tsunami is coming; brace for impact" as he described the precipitous increase in hospitalizations in the province due to the Omicron variant and announced the return of many of the restrictions from early 2021. These restrictions, most of which will be in place until at least January 26, 2022, include, among other things:
Requiring businesses to ensure employees work remotely unless required to be on-site;
Restricting indoor social gatherings and organized public events to five people;
Reducing capacity limits for retail and closing many indoor public spaces;
Closing indoor dining at restaurants; and
Moving schools to remote learning.
The government also announced new property tax and energy cost rebates and the possibility of further support for impacted small businesses.
Quebec reinstates curfew and restrictions
As of December 31, 2021, Quebec has imposed a controversial curfew during which individuals are not permitted to be outside their homes between 10 p.m. and 5 a.m., subject to certain allowed exceptions. This is in addition to other COVID-19 measures in place including, among other things, mandatory tele-work for any activity that can take place remotely, closure of schools, capacity limits for stores and shopping centres, restrictions on private gatherings and the complete closure of bars, restaurants and other indoor public events.
Ontario tightens proof of fully vaccinated status requirements
Vaccine certificates showing proof of "fully vaccinated status" continue to be required for access to certain Ontario businesses and settings, including restaurants and bars, meeting and event spaces, sports and fitness facilities, sporting events and concerts. Many Ontario employers also have adopted mandatory vaccination policies for their employees and visitors to their workplace.
On October 15, 2021, the Ontario government announced its official QR code vaccine certificate, available for vaccinated individuals to download here. This vaccine certificate became the only acceptable proof of vaccination as of January 4, 2022 and it is recognized in Canada and abroad.
In addition, as of January 4, 2022 businesses required to screen for vaccination will be required to use the Verify Ontario app to scan vaccine certificates. The Verify Ontario app, downloadable here, is intended to be able to scan and verify QR code vaccine certificates issued by Canadian provinces, territories and health authorities, with more government health authorities being added as soon as possible.
Booster shots and the definition of "fully vaccinated"
Governments are rushing to get a third "booster" shot into the arms of Canadians. On December 15, 2021, the Ontario government shortened the interval for booster shots from six to three months and made them available for anyone over the age of 18. As of January 2, 2022, the government reported that more than 3.7 million booster doses have been administered across Ontario.
You are "fully vaccinated" if you have received a full series of a COVID-19 vaccine authorized by Health Canada, or a combination of such vaccines. On January 5, 2022, Dr. Theresa Tam, the Chief Public Health Officer of Canada, said that Health Canada will revisit the definition "after the booster programs have rolled out significantly".
Federal travel restrictions
As of October 30, 2021, proof of vaccination has been a requirement for most travel by air and train within Canada.
Since December 15, 2021, the Federal government has advised against non-essential travel outside of Canada due to the spread of the Omicron variant, however travel outside Canada is still permitted. On returning to Canada, individuals must provide proof of a negative molecular test result taken within 72 hours of departure (or of a previous positive test result from between 14 and 180 days ago, which on January 15, 2022 will change to between 10 and 180 days ago). Individuals who are fully vaccinated may be subject to random mandatory arrival testing and possible quarantine requirements. Individuals who are not fully vaccinated are still required to quarantine for 14 days after travel.
Foreign nationals (including US citizens) who are fully vaccinated may be allowed to enter Canada for discretionary travel, which may include travelling for business. Fully vaccinated Canadians may continue to enter the United States for tourism and other non-essential reasons.
---
Ontario Corporate Law Update
The new Ontario Business Registry causes confusion and delay
As we mentioned in our Fall Update, on October 18, 2021 the Ontario government launched the new Ontario Business Registry, which allows businesses and not-for-profit corporations to complete over 90 types of transactions online.  The new registry, however, has been experiencing outages and delays.  It is wise to allow extra time for any filings to be made in respect of Ontario corporations in the near future.
Who will file your Ontario corporate annual return?
On May 15, 2021 the CRA stopped accepting the Ontario corporate annual return on behalf of the government of Ontario.  Previously, accountants would file the annual return with the corporation's tax return. The returns must now be filed through the Ontario Business Registry or an authorized service provider. SkyLaw will make these filings for clients as part of our annual minute book maintenance service.
Changes to the Ontario Business Corporations Act
As described in our blog on July 5, 2021, amendments to the Business Corporations Act (Ontario) ("OBCA") came into effect that day to repeal the requirement that at least 25% of the directors be resident Canadian and change the threshold required for shareholders of private corporations to pass ordinary resolutions in writing from unanimous to majority.  Ontario corporations should consider reviewing their articles and by-laws and any unanimous shareholder agreement to determine if any corresponding amendments should be made.
On December 9, 2021, a new omnibus law containing amendments to the OBCA received royal assent.  The OBCA amendments, which come into effect on January 1, 2023, include beneficial ownership information requirements for private corporations.  Certain OBCA corporations will be required to prepare and maintain a register containing information on individuals with "significant control" over the corporation, and to disclose that information upon request by the government for law enforcement, tax compliance, or regulatory purposes.
"Significant control" will generally be based on registered or beneficial ownership of, or control or direction over, 25% of a corporation's shares or voting rights, or any direct or indirect influence that if exercised would result in control of the corporation.  The amendments are similar to changes enacted for the Canada Business Corporations Act in 2019.
Proclamation of the Not-for-Profit Corporations Act
As described in our blog on October 19, 2021, after more than 10 (long) years since being passed, the Not-for-Profit Corporations Act, 2010 (Ontario) ("ONCA") was finally proclaimed into force on that date.  The ONCA replaces the Corporations Act (Ontario) which was the governing legislation for Ontario's not-for-profit corporations prior to the proclamation.
Not-for-profit corporations have three years from October 19, 2021 to make any necessary amendments to their constating documents to conform with the ONCA.
---
Behind the News
Late in 2021, the Rogers family feud was front page news. Rarely do corporate governance matters make headlines, but when one of Canada's largest publicly-traded telecommunications companies has two competing boards of directors as a result of family squabbles (think Succession meets Game of Thrones), lots of people stop to listen.
We were inspired by the Rogers saga to start a new blog series called "Behind the News" and write our first post entitled "My House, My Rules: the Rogers Family Drama". There can be some meaty corporate law issues underpinning headline news. We are here to help explain them.
---
Our Newest Team Member
S
kyLaw is thrilled to announce that Juliana Ramkissoon has joined the SkyLaw team as a corporate and securities lawyer!
You can often find Juliana with her nose in a book, on the soccer field, or playing board games with her family. As an avid coffee and wine drinker, seafood lover, and chocolate enthusiast, Juliana enjoys trying new restaurants both locally and abroad. However, regardless of where she is, Juliana remains a devoted Toronto sports fan, always cheering for the Raps, Jays, and The Reds, but makes an exception for the Buffalo Bills.
Juliana worked for a Detroit law firm and completed her articles at a full-service Toronto law firm before joining SkyLaw. Juliana can be contacted by email at juliana.ramkissoon@skylaw.ca or by phone at 416-759-5299.
---
Client Spotlight: Transitional Forms Inc.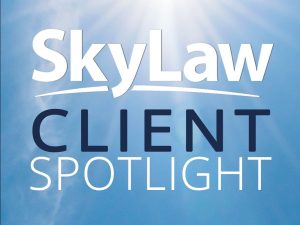 Transitional Forms Inc. is a Toronto-based entertainment innovation start-up merging the exciting possibilities of artificial intelligence (AI) with the influential power of cultural entertainment to pioneer the future of interactive experiences and emotionally intelligent content within the metaverse.
From teaching game characters to think for themselves, to generating music based on emotions, to prompting the wild conversations of virtual beings, the team at Transitional Forms designs experiential technologies that give audiences agency to shape their own customizable and hyper-personalized experiences in real-time through the emergent power of AI. Their first dynamic film, Agence, was co-produced with the National Film Board of Canada and globally premiered at the 77th Venice Film Festival. You can use your VR, mobile or PC devices to access the award-winning experience that the MIT Technology Review called "a taste of what the future of AI filmmaking could be". This video provides a short overview of the projects they are currently working on.
While Transitional Forms has been working to prepare us all for a customized virtual future, SkyLaw has been working to prepare the Transitional Forms team for the company's future. We have had the privilege of guiding the dynamic team through the intricacies of corporate restructurings, shareholder agreements and capital raisings, and last month we were proud to participate in their significant pre-seed funding round.
---
In Memoriam
Norm Tasevski
We are devastated by the sudden passing of long-time client and friend Norm Tasevski shortly before the holidays at the age of 43. Norm has been a SkyLaw client since 2010 and we featured Norm and his most recent enterprise, Ourboro Inc., in our 2021 Fall Update.
Shortly before his death, Norm wrote a moving article tracing his journey from poverty in childhood, through university and his prior social purpose start-ups, to the founding of Ourboro. In the article, Norm says that he "always aspired to make the world a better place". Having known Norm for over a decade, we can attest to the fact that not only was social impact a guiding principle for all of the decisions he made, Norm did in fact make the world a better place for countless people.
All of us at SkyLaw extend our deepest sympathies to Norm's wife and son, his colleagues at Ourboro, and his many friends and family. Norm will be truly missed.
Lucas Murnaghan
Also in 2021, we were shocked by the passing of Lucas Murnaghan at the age of 45. Lucas was an incredibly accomplished orthopedic surgeon at Sick Kids and a celebrated underwater photographer. Lucas bravely shared his story at a TEDx event in March 2020, not long before the cancer that had stopped him from being a surgeon would come back to take his life. His story is deeply inspiring and we want to honour Lucas' legacy by sharing it with as many people as possible: TEDx.
---
In Case You Missed It
We are incredibly proud of our virtual holiday greeting this year featuring each team member's favourite holiday tradition, created by the inimitable Jen Semple-Berger. Another law firm wrote to us and said "Well, you win the prize. This is the best Holiday greeting I have seen so far. Just love it." In case you missed it, you can find it here.
---
Happy New Year!
We felt a lot of pressure to get this New Year's Update out today since "Happy New Year" greetings should be banned after January 7, according to Larry David on a recent episode of Curb Your Enthusiasm, which followed this episode of Seinfeld that he wrote about timely new year greetings. So, Happy New Year!  But we nevertheless disagree with the curmudgeonly Mr. David and welcome any friendly greetings at any time!
---
This blog post is not legal or financial advice. It is a blog which is made available by SkyLaw for informational purposes and should not be used as a substitute for professional advice from a lawyer.
This blog is subject to copyright and may not be reproduced without our permission. If you have any questions or would like further information, please contact us. We would be delighted to speak with you.
© SkyLaw . All rights reserved. SkyLaw is a registered trademark of SkyLaw Professional Corporation.